Publication fees help us to recover the costs of publication, including online hosting and repository, DOI, Crossmark and CLOCKSS. We publish all content Open Access, this means it is freely available online for researchers and scientists to read, distribute, and reuse, except for commercial purposes. Creative Commons (CC BY-NC 4.0) https://creativecommons.org/licenses/by-nc/4.0/deed.en.
Every uploaded work will be published.1
Publication fees2 are Normal 249 € or Express 299 €3. There are not additional charges based on color, length, figures, or other elements.
The publication fee is subject to change2 and will be charged at the end of the submission process.
Normal upload: You must follow all the procedures according the publisher sequence.
Express upload: We take care of uploading all the material to the Publisher, when submitting an article, we only require you to upload all the files needed for your complete manuscript, including figures and tables also any relevant supplementary data.
Please submit any permissions that you have already obtained at this stage.
Before upload all the items, please consult our authors information.
If you experience any problems submitting your article online, please contact us for assistance.
In the case you need additional revision or translation services there is an extra charge, these will be made clear to you at the end of the process.
1 It will only may be affected by peer review.
2 The publication fee is subject to change if proofreading, text revision or translation is asked/demanded.
3 We take care of uploading all the material to the Publisher.
TABLE OF RATES PER CONGRESSES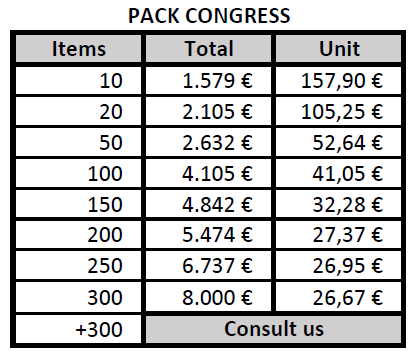 Pack Congress: Items to publish
Publication of all presentations and documents related to the Congress on the web through code provided to the author.
Attribution of a DOI for each of the uploaded Items, plus the inaugural presentation and the closing ceremony, so that all can be immediately cited as any scientific article.
The copyright is maintained by the author except on items edited by Editions by SEA®
We provide all the instructions to format your item before sending it, in the instructions for authors section.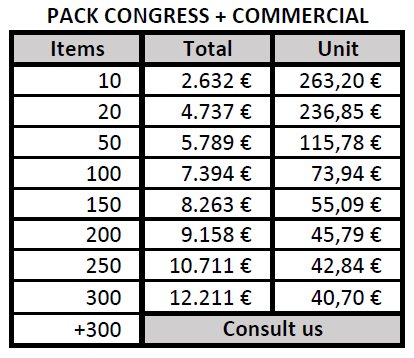 Congress + Commercial Pack: Advertising module (optional):
Includes all the services of the Pack Congress.
We create a personalized One Web Page, available for a period of 1 year, with access to all1 the contents of the congress.
At the end of this period, if Pack Congress + Commercial has not been renewed, the contents will remain in Open Access on the web unless otherwise agreed and always with the author's consent.
The Group-SBD team is responsible for uploading the received material2.
Monthly activity report (geolocated visits, downloads, number of messages, etc.) of each of the items uploaded.
Custom banner for each item with hyperlink. In this case please indicate the appropriate URL.
1 As long as the author has given his consent.
2The author must, in any case, validate the content and complete conflicts of interest before the article is published
Contact: